On May 22, 2019 from 6am to 10pm a big red donate buttons will appear on the right side of the homepage Organizations page allowing you to securely and easily make donations to organizations dear to you.  See below for complete details covering Donation & Match Guidelines, and Organization Eligibility.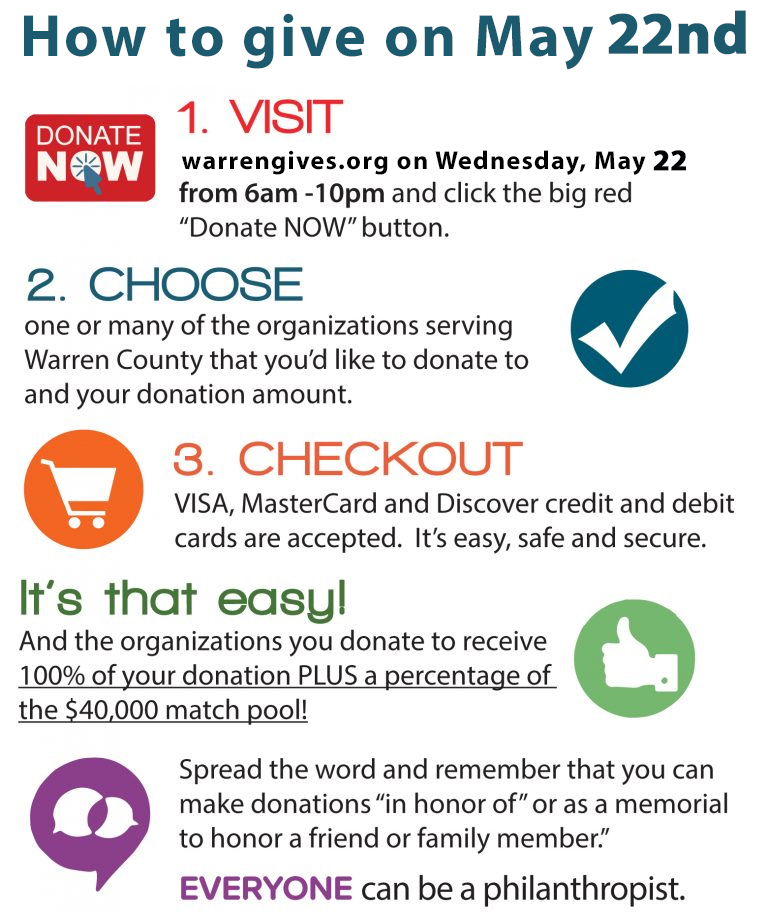 Start planning your giving by visiting the Organization page today to learn more about organizations, their plans and missions.
CLICK HERE to visit the ORGANIZATIONS page
  
Would you like a reminder?
To receive an email reminder on this special day of giving, please click

here.
Organization Eligibility:
Non-profit organizations are eligible to participate if they primarily serve Warren County, and have received a CFWC grant* in the last 3 years.  Accepted organizations are responsible to have a current profile on the Warren Gives website as of March 30, 2019. Questions regarding eligibility or your profile page can be sent to info@warrengives.org
*CFWC grants do not include grants from Donor Advised Funds.  While CFWC manages accounts for various funds and issues checks on their behalf, Donor Advised Fund grants are not grants from CFWC and as such do not qualify an organization for participation.
Donation & Match Guidelines:
The minimum gift per organization is $10. The maximum gift per organization is not limited but only the first $1,000 of any donation will be eligible for match dollars. (For example, a donor gives $50 to an organization, $50 is counted towards the match pool; a donor gives $2,500 to an organization, $1,000 is counted towards the match pool.)
Organizations are prohibited from donating to themselves.
The Community Foundation reserves the right to refund donations for any reason.
The spirit of this special day of giving is one of awareness and appreciation for community non-profits, and to encourage new giving.  Donations to fulfill pledges or for named or capital projects are very important to our non-profits and we encourage you to personally make such donations directly to those organizations in addition to your Warren Gives donations.
MasterCard/Visa, and Discover credit and debit cards only – checks, stocks, or cash cannot be accepted during this online campaign.